For those in North and South America, Sony has officially made the redesigned PlayStation Plus service live. PlayStation Now, Sony's prior membership model, is now a thing of the past as a result of this expansion of PlayStation Plus' library of titles. Despite the demise of PS Now, PS Plus continues to offer the same features and benefits.
With the launch of PS Plus Premium and PS Plus Extra, PlayStation Plus has expanded its service offerings. Classic PlayStation games, game trials, and a wide catalog of titles will be available to Premium customers as part of their subscription. PS Plus Extra, on the other hand, is a mid-tier subscription service that only provides customers with a list of titles they may play on their own. In addition, the old version of PlayStation Plus, now renamed PS Plus Essential, is still accessible and allows customers to download the new rotating roster of titles each month for free.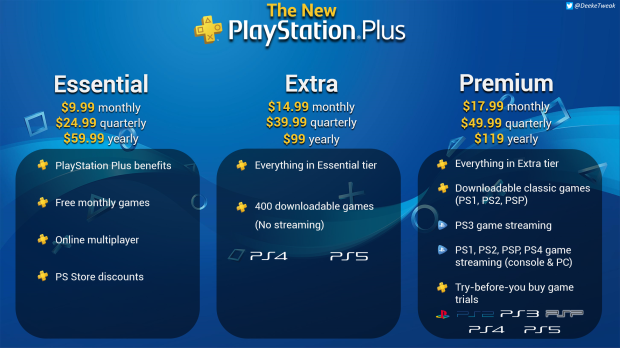 When it comes to the PlayStation Plus price structure, Sony is presently planning to charge the following:
For $17.99 each month, $49.99 every three-month period, or $119.99 per year, you can get PS Plus Premium.
If you're a PlayStation Plus member for a year, you'll pay $149.97.

For $9.99 for one month, $24.99 for three months, and $59.99 for a full year, you can get PS Plus Essential.
Additionally, we now know exactly which titles are included in the latest edition of PS Plus, which is currently live on the PlayStation Store. Now that Sony has included its complete library of titles into PS Plus, you can see them all on the PlayStation website. You'll have to spend some time sifting through the hundreds of games on offer to find what you're looking for.